FIND HELP, FIND HOPE
Informational meetings held every second Thursday, 6-7pm at:
Reid Memorial Presbyterian Church
2261 Walton Way, Augusta Ga 30904
NOTE:  Please check our events calendar for future monthly meeting dates as they do shift on occasion. 

"MCG conducting studies on exercise benefits for people with schizophrenia", with Dr. Joseph McEvoy and WJBF's News Channel 6, Jennie Montgomery
"Studies aim to improve cognition, reduce weight gain in schizophrenia", Dr. Joseph McEvoy, Augusta University
March's Sandwich Seminar
Topic: A Talk with Judge Harry James, "Utilizing the Probate Court System to Help Loved Ones in Crisis"
Join us as the Honorable Judge Harry James leads discussion about the Richmond County probate court and how families can utilize the court system as a resource to elicit help for a loved one in crisis. 
Thursday, March 14th, 6-7pm
Where: Reid Memorial Presbyterian Church
2261 Walton Way, Augusta, Ga
All are welcome!
NOTE: This month's meeting is being moved to the church's gym due to another event being held in the Fellowship Hall.
ATTENTION: April's Sandwich Seminar will be held a week earlier due to Masters Week, Thursday, April 4th, 6-7pm.
Let Us Help You and Your Loved One's 
NAMI, the National Alliance on Mental Illness, is the nation's largest grassroots mental health organization dedicated to building better lives for the millions of Americans affected by mental illness. What started as a small group of families gathered around a kitchen table in 1979 has blossomed into the nation's leading voice on mental health. Today, we are an association of hundreds of local affiliates, state organizations and volunteers who work in your community to raise awareness and provide support and education that was not previously available to those in need. NAMI Georgia is a 501.c.3 Charitable Organization. 
 November Member Of the Month
 NAMI Augusta's Member of the Month Award for November 2018 was presented to Ms. Pamela Quarles in recognition of all the work she does as a champion of mental health awareness and recovery. We thank you for your dedication!
 October Member Of the Month Winner
Nami Augusta's Member of the Month Award for October 2018 was present to Ms. Devon Ellison.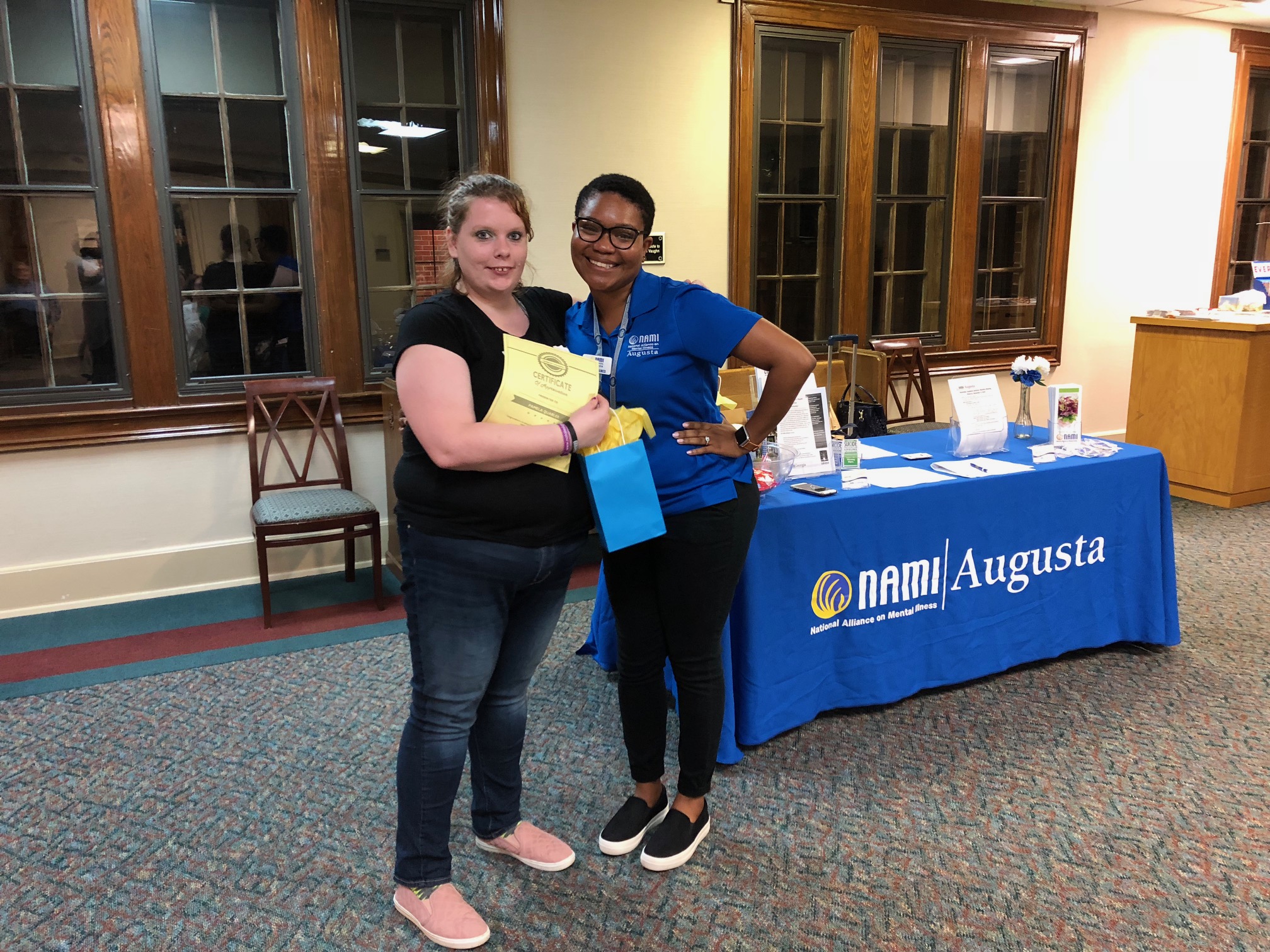 Georgia's DBHDD Suicide Prevention PSA
"Treating Bipolar" between Dr. McEvoy and WJBF's News Channel 6, Jennie Montgomery
"NAMI Augusta a Mental Health Organization – Raising Awareness" interview between Hillary Gaines, NAMI Augusta President and 
WAFJ's Family Friendly Radio, 88.3, 
Cleve Walker