FIND HELP, FIND HOPE
Informational meetings held every second Thursday, 6-7pm at:
Reid Memorial Presbyterian Church
2261 Walton Way, Augusta Ga 30904
NOTE:  Please check our events calendar for future monthly meeting dates as they do shift on occasion. 

CALL THE NAMI HELPLINE
800-950-NAMI
CALL NOW
M-F, 10 AM – 6 PM ET
info@nami.gov
Text "NAMI" to 741741
Please join/support NAMI Augusta's "Virtual Walk" – an extension of NAMI Georgia's 14th Annual 5K Walk – raising mental health awareness and supporting NAMI programs!
Suicide Prevention Conference 
hosted by GA DBHDD, October 25-26th. 
Open to the public and free! Registration Deadline is
 Monday, October 22nd.
The November Sandwich Seminar
Leslie Addison, LPC, Child and Adolescent Therapist, from Aurora Pavilion Behavioral Health Services in Aiken, SC, will present on the topic of Understanding Adolescent Disruptive, Impulse Control, And Conduct Disorders in Childern and Adolescents.
When: Thursday, November 8th, 6-7pm
Where: Reid Memorial Presbyterian Church
2261 Walton Way, Augusta, Ga
All are welcome!
Mindfulness Yoga
We are so excited to begin our Mindfulness Yoga. If you are interested, please stay after the meeting for yoga time (6:30-ish). We will have a few yoga mats available, if you don't have one. Make sure to wear exercise attire for yoga class. 
Let Us Help You and Your Loved One's 
NAMI, the National Alliance on Mental Illness, is the nation's largest grassroots mental health organization dedicated to building better lives for the millions of Americans affected by mental illness. What started as a small group of families gathered around a kitchen table in 1979 has blossomed into the nation's leading voice on mental health. Today, we are an association of hundreds of local affiliates, state organizations and volunteers who work in your community to raise awareness and provide support and education that was not previously available to those in need. NAMI Georgia is a 501.c.3 Charitable Organization. 
Member Of the Month
Member of the Month": "NAMI Augusta's first Member of the Month Award for September 2018 was presented to Mr. Warren Bowman, Jr. in recognition of all the work he does as a champion of mental health awareness and recovery. We thank you for your dedication!"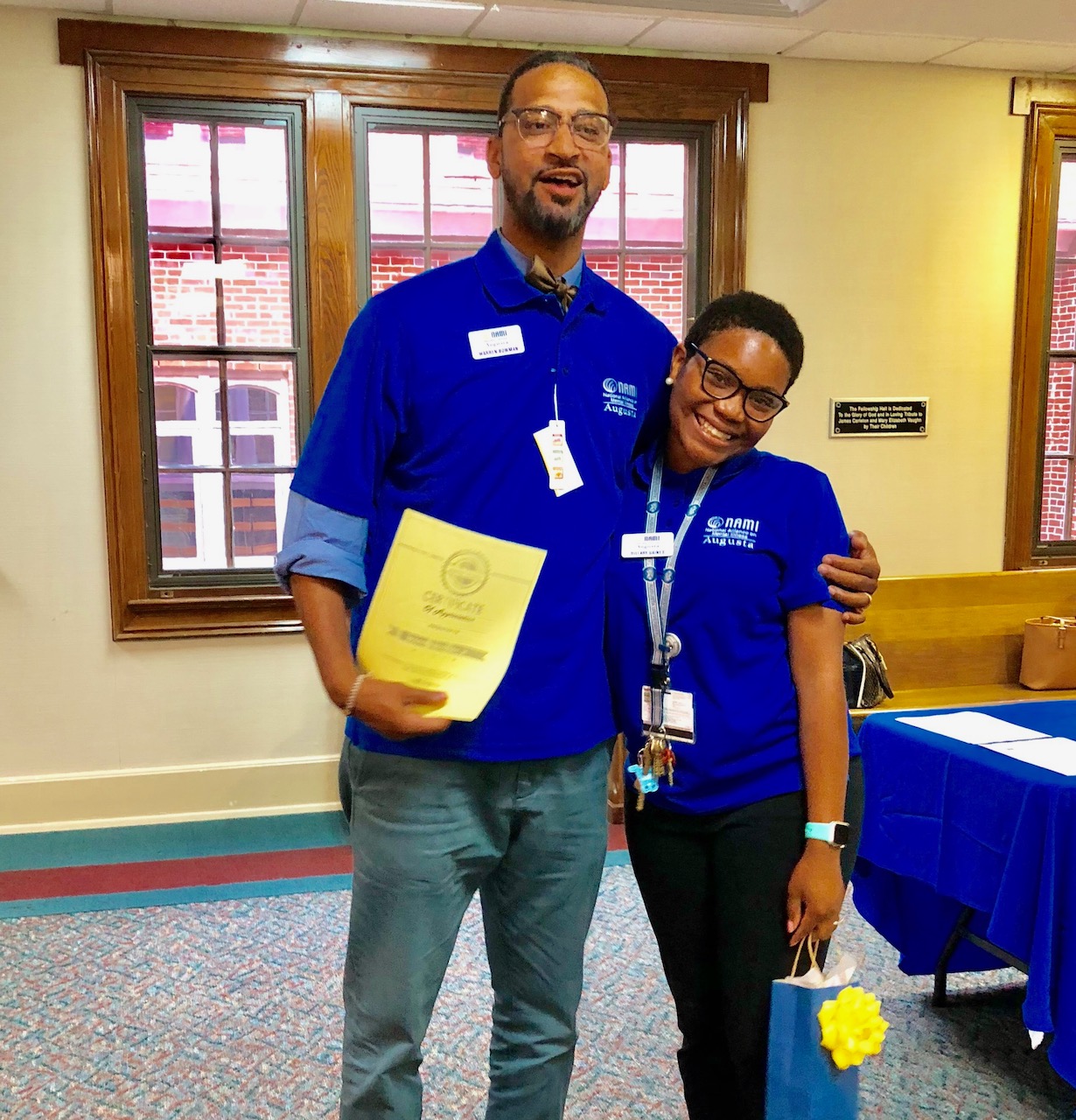 Georgia's DBHDD Suicide Prevention PSA
"Treating Bipolar" between Dr. McEvoy and WJBF's News Channel 6, Jennie Montgomery
"NAMI Augusta a Mental Health Organization – Raising Awareness" interview between Hillary Gaines, NAMI Augusta President and 
WAFJ's Family Friendly Radio, 88.3, 
Cleve Walker