FIND HELP, FIND HOPE
Informational meetings held every second Thursday, 6-7pm at:
Reid Memorial Presbyterian Church
2261 Walton Way, Augusta Ga 30904
NOTE:  Please check our events calendar for future monthly meeting dates as they do shift on occasion. 

CALL THE NAMI HELPLINE
800-950-NAMI
CALL NOW
M-F, 10 AM – 6 PM ET
info@nami.gov
Text "NAMI" to 741741
Please join/support NAMI Augusta's "Virtual Walk" – an extension of NAMI Georgia's 14th Annual 5K Walk – raising mental health awareness and supporting NAMI programs!
See Us This Saturday!
See us at the Saturday Market, located at Downtown Augusta on the Riverwalk; September 22nd, 8am – 2pm.
 In Lieu of The October 10th Sandwich Seminar 

Interfaith Service for Healing of the Mind and Spirit
This service is a Community-wide event for all those whose lives have been touched by mental health concerns as well as for health care providers, family members, and caregivers.  Participants from Christian, Jewish, Muslim, and Unitarian Universalist traditions will be represented in the service. All are welcome.  Sponsored by the Coalition for Mental and Spiritual Health Ministries and NAMI Augusta.
When: Tuesday, October 9th, from 7-8pm
Where: Unitarian Universalist Church
3501 Walton Way Extension Augusta, Ga
All are welcome!
Mindfulness Yoga
We are so excited to begin our Mindfulness Yoga. If you are interested, please stay after the meeting for yoga time (6:30-ish). We will have a few yoga mats available, if you don't have one. Make sure to wear exercise attire for yoga class. 
Let Us Help You and Your Loved One's 
NAMI, the National Alliance on Mental Illness, is the nation's largest grassroots mental health organization dedicated to building better lives for the millions of Americans affected by mental illness. What started as a small group of families gathered around a kitchen table in 1979 has blossomed into the nation's leading voice on mental health. Today, we are an association of hundreds of local affiliates, state organizations and volunteers who work in your community to raise awareness and provide support and education that was not previously available to those in need. NAMI Georgia is a 501.c.3 Charitable Organization. 
Member Of the Month
Member of the Month": "NAMI Augusta's first Member of the Month Award for September 2018 was presented to Mr. Warren Bowman, Jr. in recognition of all the work he does as a champion of mental health awareness and recovery. We thank you for your dedication!"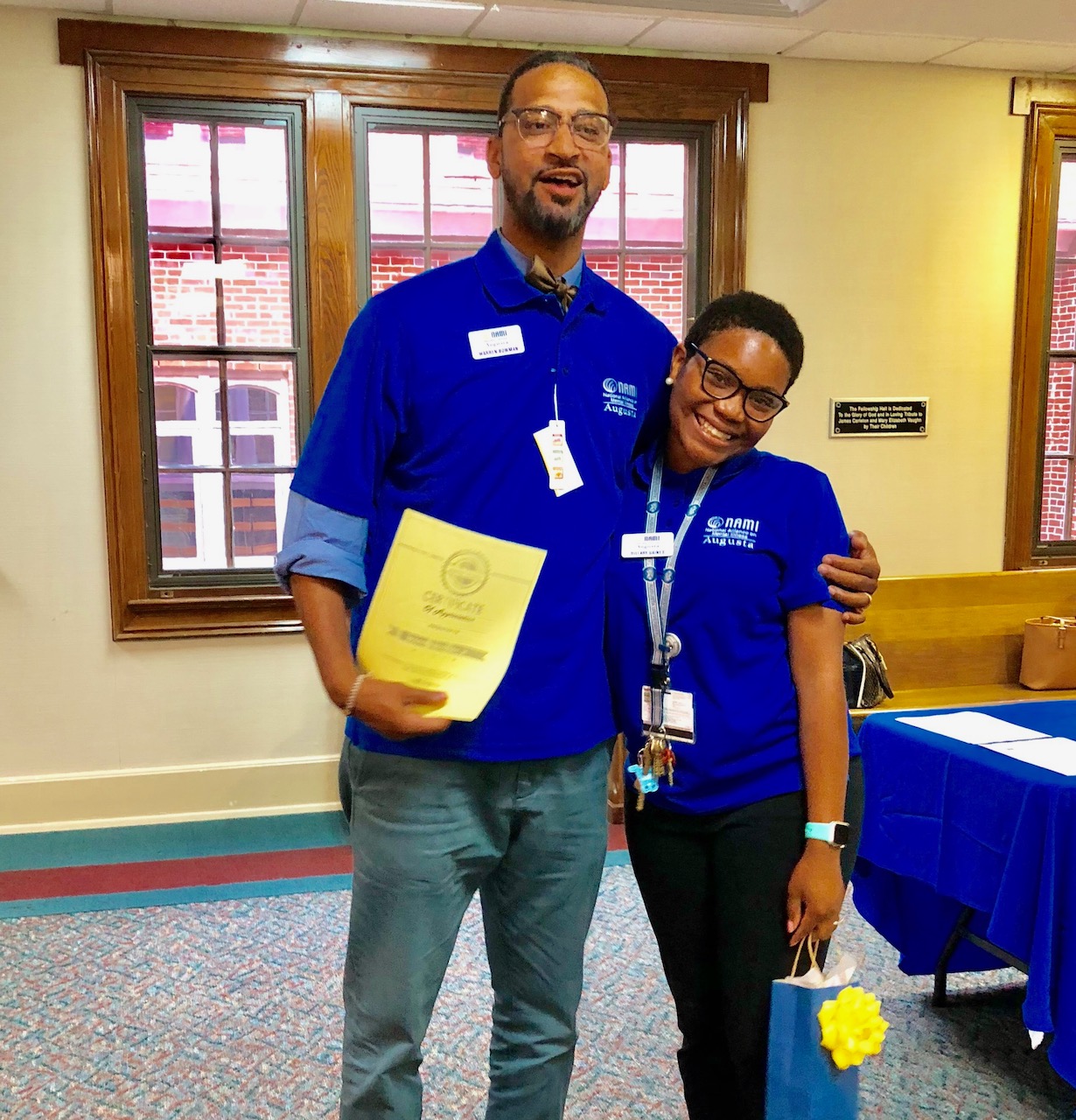 From Namiga.org: Atlanta, Georgia (February 16, 2018) –
NAMI Georgia's heart goes out to the families of Stoneman Douglas High School, and the Parkland Communities. We are saddened by the tragic loss of life that could have been avoided. NAMI Georgia feels it is important to examine all factors that may have contributed to this tragedy before any assumptions are made….
Anderson Cooper's Schizophrenia Simulator